WHY TAKE A COLLAGEN SUPPLEMENT?
Collagen is a protein that is a key structural component of skin, bone, and connective tissue.
As we age, our bodies produce less collagen. This means that the structural integrity of our skin declines we get older, leading to wrinkles forming, and joint cartilage weakening.
Our bodies naturally produces collagen by combining amino acids, such as glycine and proline found in your food, along with other nutrients, such as vitamin C, zinc, and copper.
By supplementing with a high-quality collagen builder, you can support your body with the amino acids and nutrients it needs to maintain healthy collagen levels, meaning better skin, and stronger joints as you age.
PROBLEM WITH OTHER COLLAGEN PRODUCTS
Animal Based
Did you know that animal-derived collagen supplements actually just get broken down by our bodies into various amino acids, which our bodies then use to formulate it's own collagen?
Marine and Bovine collagen is derived from animals – including scales, bones, skin, and other animal parts. These are often sourced from factory farms, which are devastating to our environment.
Our Solution
You don't need to eat collagen to build collagen. In fact, nothing is more effective at building collagen than your own body. It just needs to be supplied with the correct building blocks.
Our plant-protein collagen builder provides a superior amino acid profile and more nutrients compared to marine and bovine collagen, all while being good for you, the planet, and the animals that we share it with. That's why it's certified by the Vegan Society.
Poor Amino Acid Profiles of other products
Most collagen supplements on the market contain a poor amino acid profile, meaning they don't contain all of the different building blocks your body needs to build it's own collagen.
Our Solution
Our plant based collagen builder has the exact amino acid profile your body needs to produce collagen, superior to other leading collagen brands and making it a more effective blend.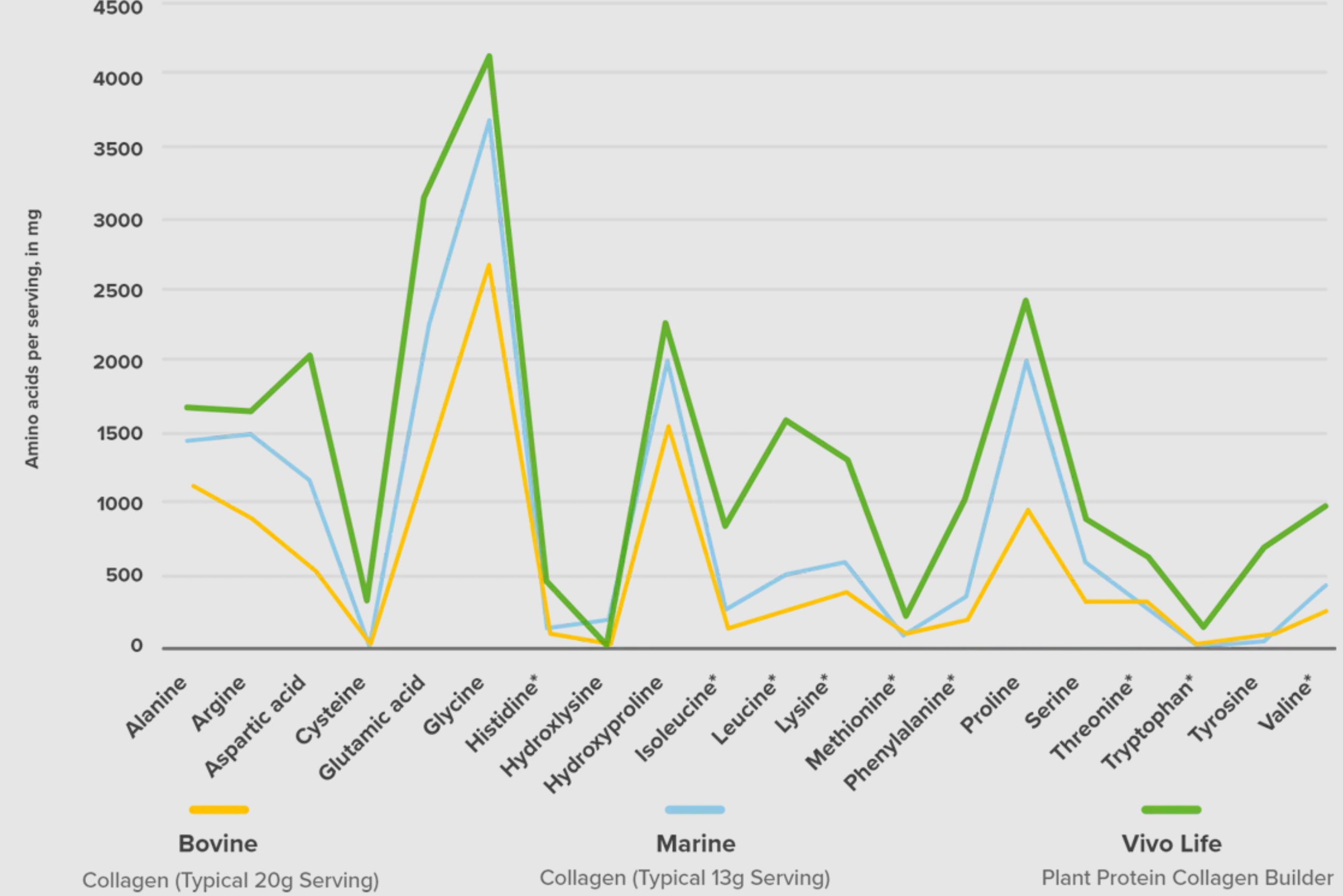 Ineffective doses
Most collagen supplements on the market contain insufficient dosages of key ingredients to save costs. These products don't produce real results and are only good for the manufacturer's profits.
Our Solution
We use a high dose of amino acids and collagen building nutrients scientifically proven to support collagen production, hair, skin and nails.
Our blend also contains 240mg of ultra-pure hyaluronic acid in a single dose, to deliver changes you can see and feel, and 600mg of Bamboo Extract Silica, to help bolster your skin's natural ability to retain water.
Poor quality ingredients
Many leading collagen products contain cheap and poor-quality ingredients, which often contain contaminants – including heavy metals, herbicides, pesticides, PCBS, and more.
Our Solution
Our Plant Based Collagen Builder is third-party lab tested for heavy metals, and over 500 other types of contaminants, including herbicides and pesticides.
WHAT IS IT MADE OF?